I Edition
Health sciences in India have all along treated the whole body, including the mind, as a single unit. There is a fundamental unity in spite of the diversities. A typical example that proves this point is the hand comprising the five fingers, of different sizes, shapes, functions and location and yet acting as an integrated whole.
This approach called the 'holistic approach' is slowly gaining ground and momentum in the medical fraternity, however slow it may appear to be.
Since attaining overall health is the primary requirement, all systems like Allopathy, Homeopathy, Ayurveda, Unani, Acupressure, Acupuncture, Pranic healing, Reiki or oil pulling should be given chance and their due place in achieving it.
This is exactly what Dr.Bhojraj has done in this book Acupressure-The Drugless Path to Good Health.
Himself a distinguished engineer and technocrat, he has put all his knowledge and experience in the field of acupressure wherein he got special training under competent masters. Also, his long practice in this field, which has earned him the gratitude of many patients cured by him, has stood him in good stead, in opening before the layman a new, simple, efficient and even exciting vista of good health by some means. We congratulate Dr.H.Bhojraj in this venture of his, in the field of health and healing.
Ramakrishna Math

Banglore

25th June 2001

(Signed)

Swami Harshananda

President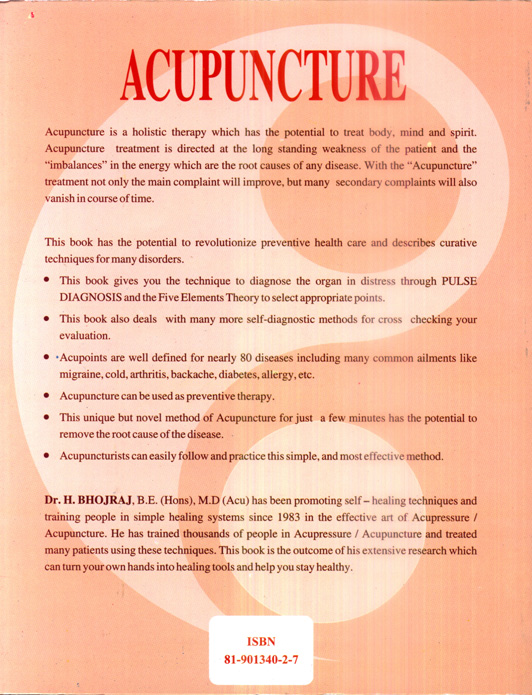 II Edition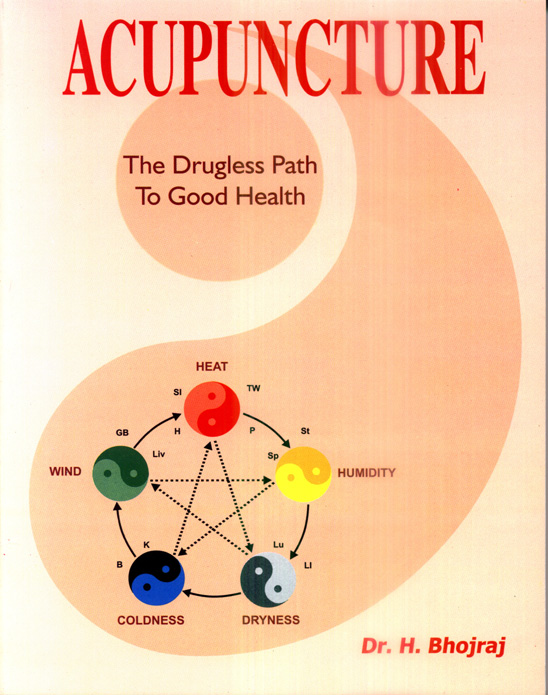 Dr.H.Bhojraj, as one of the eminent teachers and practitioners of Acupuncture system of medicine, has combined his ideas obtained from a long period of clinical practice and scientific knowledge, has produced a wonderful book on acupuncture. I have known him as an excellent practitioner and a close friend for a long time.
Acupuncture has responded specifically to the new age movement for psychosomatic disorders and for the well being of every individual. Dr.H.Bhojraj has outlined in this book his practical approach which can be used without any hesitation by the acupuncture practitioners as well as by new students in this subject.
I earnestly appreciate his interest towards humanity by devoting his time to medicine in spite of overloaded work as a scientist in ISRO, Bangalore. I pray for long life with good health to serve the society.
430,EB colony

Thanjavur-6

12-02-2009

(Signed)

Kt.Cdr.Prof.Dr.Sir.S.Nagendran

Chairman

Indian Holistic Medical Academy

Senate Member and Director

The Open International University

Colombo-6,Srilanka