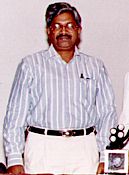 Dr.H.Bhojraj B.E (Hons),M.D (Acu)
Acupressure and Acupuncture Consultant


You require Acrobat Reader to view the contents.
Note: When ­ (arrow upward), i.e. tonification is advised, massage clockwise 7 times. When ¯ (downward arrow), i.e. sedation is advised, massage anti-clockwise 7 times. Repeat after one week if there is no improvement.

For other ailments Refer book 'Acupressure-The drugless Path To Good Health'
or
Contact: Dr.Bhojraj
CAUTION!
It is clear that most illnesses and disorders produce a range of symptoms.In any disorder, certain symptoms may be more pronounced in one individual than in another.It is advisable to understand the theory of illness from the acupuncture point of view and diagnose the root cause of the problem through pulse diagnosis.The treatment can be formulated based on the fundamental principles of acupuncture.
But people who have no time to understand theoretical points but need the practical means to cure the symptoms may do so with the help of this treatment reckoner. You are the best judge to evaluate the result of the treatment, since pain-related symptoms can not be quantified by any method. The layman can try acupressure or acumassage on specific points and trained people can try acupuncture on those points. It is advisable to wait for a week or fortnight before giving one more stimulation. It is advisable to consult a qualified doctor and undergo the required tests to confirm any pathological change in the system.
Your feed back is most welcome.Please send your opinion by E-Mail to Dr.H.Bhojraj. acu_bgl@yahoo.co.in
NOTE : IF YOU HAVE NOT UNDERGONE TRAINING, YOU ARE DOING THIS AT YOUR OWN RISK. THE AUTHOR CANNOT BE HELD RESPONSIBLE.