Who will get infected normally ?
Though it is a disease of sheep , cattle, horses and goats, human infection is an occupational disease of farm workers, veterinarians, and other workers associated with the above animals.
ANTHRAX ATTACK !!!!
(Prevention is better than cure)
How do we get treatment in case of an attack ?
Cure with antibiotics either Penicillin or Tetracycline for mild infection. Penicillin must be given intravenously in case of heavy infection.
How will one get infected in case of biological attack?
One can get infected through the open wounds in the skin (cutaneous anthrax) and though breathing (inhalation anthrax).
What is Anthrax ?
Anthrax is an infectious disease caused by virus / bacteria which affects the human being with animal contact.The bacterium is known as Bacillus anthracis.
Anthrax is environmentally stable and it can remain alive for a very long time. It tends to envelop itself into 'Spores' or hard shells. In this state it does not have the capacity to multiply but remains as a living organism. It becomes alive and starts multiplying when any one of the prerequisites - nutrients , temperature , moisture and oxygen content - denied earlier become available.
What Acupressure can do ?
In case of any infection, acupressure cannot help much , but if your immune system is strong enough , one can come out with mild dose of antibiotics.
What are the effects of this infection?
Through the skin,first it may develop as a lesion(wound ) and the infection may spread through the blood stream and may cause shock,cyanosis,sweating and collapse.If inhaled , it may develop in to pneumonia rapidly causing breathing problem and brain fever.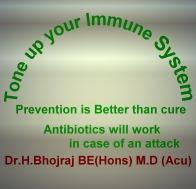 What are the acupressure points to tone up immunity ?
Sp-3,Liv-3,K-3,Lu-7,GV-14.

Press and release these points for one minute at each point.