Vol.11 November - December 2002 No.6

Dr.H.Bhojraj B.E (Hons),M.D (Acu)
Acupressure and Acupuncture Consultant

Announcements
Diabetic Research
(Successful Cases)
Click Here
(To know about diabetes)
Click here
(To know about Migraine)
Contents:
---
From the Course Director's Desk

From the Course Director's Desk....

Perfect health is not attainable.Then why should we practice all these preventive techniques,regular exercise and meditation? Health is a dynamic and harmonious equilibrium of all the elements and forces making up and surrounding a human being.The balancing act of health like acupressure,acupuncture,reflexology,meditation or even exercise is only temporary, since change is the essence of life.When the equilibrium breaks down, illness sets in.Perfect health is an impossibility in the relative world.
Minor illness is a part of daily life
Illness can he as minor as a headache, lack of energy, indigestion after a wrong meal,restless sleep in the night,a tiny injury. Whether you accept it or not,any human being at any point of time ma have a slight imbalance in any one of all the internal organs.Many people may not even notice the changes in the body.As long as the minor illness does not affect our daily routine, we can accept the declaration of good health.If you observe carefully one can easily record the following symptoms in a week.
I - Day - Felt lethargic, somewhat anxious. Neck and shoulder stiffness.
II - Day Slept poorly, throat irritation,intestinal gas and evacuation feeling 2 to 3 times in a day.
III - Day - Sneezing for no apparent reason but throat is back to normal. Difficult to concentrate on mental tasks
IV - Day - Full energy, could complete all the reports. Noticed an ulcer in the mouth.
V - Day - The mouth ulcer disappeared. Burnt the tongue with hot tea.
VI - Day - Disturbing dreams and general dryness in the body.
VII - Day - Knee pain. Thirsty all the day. Difficulty in falling asleep.
Body adapts to the changing stress
These are the normal changes human beings go through as their bodies and minds adapt to the changing stresses of daily life. None of these complaints is serious and do not require any corrective action.The dynamic nature of health rules out any static condition and dynamism means ups and downs like our share market.Things do happen whether one likes it or not.Adjust yourself to the environment and never complain about change.The nature of life is to "CHANGE."
Experiment on self
Your thinking influences the change.For thinking, one has to take inputs from outside world i.e. from experienced people.The research and development is going on for many years to attain that so called "Perfect Health." Let us all do our part as we think best at this point of time and contribute our best for our organization, our society and our country.The Diabetic research has opened new techniques to come out of this metabolic imbalance with our own efforts.
The registration for our research programme on "Migraine Headache" starts from December 2002.Those who have been declared as having Migraine Headache by Allopathy system may register with Mr. P. Suresh (Tel. 663 8091) to avail our monthly treatment for one year.
The results of the Diabetic Camp are exhibited in our web Site (http://bhojraj.tripod.com) in PDF Format. This data will be updated every month as the results pour in.We will be closing this research by December 2002.
With best wishes
Dr. H. Bhojraj
Course DirectorAddress:
1963, 8th Main, 'E' Block,Rajajinagar II Stage
Bangalore - 560 010.
Tel : 332 6552 / 332 4653
Email : acu_bgl@yahoo.co.in
Website :http://bhojraj.tripod.com
Consultation by appointment only.
Timings: Week Days 6 to 8 pm
Sat & Sundays 9 to 11 am
P.S.We request the members / readers to please send us their comments, suggestions, etc. which will greatly help us make the Newsletter more informative / interesting. Kindly mail all correspondances related to the Diabetes Camp to our Programme Coordinator Mr. P. Suresh at the following address : 598, 11th Main, 5th Block, Jayanagar,Bangalore - 560 041. Tel : 663 8091
---
Case Histories

Slip Disc cured with Acupuncture
says Smt. Jalajakshi, No. 7,1st Cross, Cottonpet, Bangalore, Tel 670 6032
(An interview on telephone by Smt. Sujata Palyam)
In October 2001. I experienced severe back pain along with neck pain, pain in the chest region and burning sensation in the foot. My husband took me to our physician and the doctor prescribed pain killers and bed rest for a few days. I took the pain killers (3 per day) and bed rest nearly 10 days but the pain was my constant companion in spite of pain relieving tablets taken regularly.
I was advised to go to an Orthopedic specialist and after X-rays, I was declared as having slip disc between L4 and L5.I was advised to undergo surgery. We were worried when we heard the surgery also may not give permanent relief.
One of our family friends wife had similar problems and had recovered after taking Acupuncture treatment from Dr. H. Bhojraj. In fact we were ready to try any alternative treatment to avoid surgery.
As per our friend's advice, we met Dr. Bhojraj in December 2001 for consultations and he started the acupuncture treatment on the same day. He took just a few minutes for the acupuncture treatment. On the first day of the treatment itself, I felt very good relief. He asked me to repeat the treatment once in a fortnight for two months and once a month for the next two months. The period between treatments, I used to experience the pain on and off; but after the treatment I used to get good relief for a few days as if it was totally cured. With a minimum gap of 15 day's between treatments, my pain slowly diminished and I was able to move around without pain.
Since May 2002, I have not gone to Dr. Bhojraj for any treatment. Once in a while I feel slight pain in the back.When I work hard,I managed to overcome this by activating the spine reflex points as trained by Dr. Bhojraj.
I am very grateful to Dr. Bhojraj for solving my back pain and other symptoms without medicine and also avoiding surgery.

Migraine Headache cured by Acupuncture
Says Mrs. Dkshavanamma Mysore. Tel. No. 472 599
(A telephonic interview by Smt.Sujata Palyam)
I was suffering from Migraine headache for about 25 years. I used to feel severe head ache twice or thrice a week.I used to take Dolapar tablets. We consulted many doctors and all of them decided that I have to manage with tablets since migraine cannot be cured.
Based on the advice of my relative in Bangalore, I took acupuncture treatment from Dr. Bhojraj in August 2001and experienced good relief.I took treatments regularly once every month for three months. After that I took treatment once in two months. For the past 3 months I have not taken acupuncture treatment, and now I get headache very rarely which is tolerable.I have not taken the pain relieving tablets since I started the Acupuncture treatment.I would like to expresses my thanks to Dr. Bhojraj for treating me without drugs and providing relief from long experienced migraine.I have recommended this treatment to many of my friends and advising them to consult Dr. Bhojraj for their ailments, particularly for migraine.
My husband is verv keen to organise an Acupressure Course in Mvsore during January 2003.


Wonderful relief from Migraine Head ache from Acu pressure treatment.
Says B. Bhagirathi,Plot No. 8, Lakshmi Nagar, Chennai,Tel : 2247913
I was suffering from migraine with a peculiar symptom of burning sensation since 18 years. I had the burning confined to a particular spot, that is behind the ears. Sometimes I had a pulling sensation, sometimes with throbling pain in the temple region. X-rays, CT scans and many pathological investigations, running from pillar to post, simply spending money in thousands on various systems of medicines gave me no relief for many years.
I happened to read an article in "Mangayar Malar" about acupressure by Dr Mrs. J.Jayalakshmi. She treated me with acupressure and I had some good relief for the first time in my life.I could see the silver linings, but again after 10 days I got the same complaint.Second time she treated me in some other acupressure points.I had good relief after 2 days.Again after one month the same complaint occured with head ache,nausea and burning sensation.It became really a "Burning problem".This time Dr. Jayalakshmi treated me with acupuncture and taught me a few simple breating exercises.Now I am completely relieved of my migraine headache.I am following her instructions regularly.
My interest to learn Acupressure motivated me to join the Acupressure Classes conducted by Dr.J. Jayalakshmi.Now I am treating some patients from my family circle. I have resolved to do some service to humanity by relieving of their sufferings without any medicines and side-effects.



Great relief from lower-back pain with Acupuncture treatment
Says Shri D.L. Shirolikar. Senior Engineer
& President ,Space Officer's Association,
ISRO Satellite Centre, Bangalore
Dr. Bhojraj ! Thank you for introducing Acupressure and Acupuncture techniques-"A drugless therapy" to ISAC community.I am extremely happy to inform you about my recent experience which gave me great relief from severe back problem.On reaching office on the morning of 4th of September, 2002, I had severe pain at the lower end of my back. The pain continued to increase with time. After consulting our doctor, I took a tablet after lunch but the pain continued to increase again. Later in the afternoon my colleague Sri M.V. Kannan tried to treat me with reflexology but there was no relief . He then called Sri Anantha Krishna, an Engineer from Crvo Lab, ETF tried Acuprcssure to relieve my pain. His efforts were not so helpful and he requested Sri Anil Kumar R., his collegue for help. In the mean time I had terrible pain while getting up from my seat.Sri Anil Kumarused acupuncture technique after pulse diagnosis which was taught by you. After puncturing, the pain reduced gradually and I could at least walk with some discomfort and managed to reach home. As per his advise, I drank plenty of water and tender cocoanut before resting. Around 7-30 PM when I woke up I found my self quite at ease and my back pain had reduced significantly.I was very happy to be out of pain and informed the same to Sri Anil Kumar.
The next day Sri Anil Kumar explained in brief about the working principle and advantages of acupressure and acupuncture which convinced me of the science of acupuncture and the potential for such application as aches, back pain and other diseases. Dr. Bhojraj, thank to you and your budding team of drugless therapists.
We are planning to organise a course for the benefit of our officers.


Great relief and a new hope of life after Acupressure treatment
Says Mrs. Rukmani Raman. K.K. Nagar, Chennai
[102/4, CPWD Quarters, Chennai - 600 078, Tel 471 7388]
I am a house wife in early forties.For the last 3 years I was suffering from back-pain, constipation and a lot of inconvenience during the monthly periods.I was advised to take tablets till my last breath. For the back-pain,I was given shock treatments and physiotherapy etc., but was of no use. My sufferings were unexplainable. After reading an article by Dr. J. Jayalakshmi in Mangayar Malar".I visited her for treatment. After the drugless treatment by acupuncture. I have stopped taking tablets.The back-pain has also reduced greatly.I now have a new hope of life.I cannot find words to express my gratitude to Dr.Jayalakshmi for this new hope.I have been suggesting my students, friends and relatives to get treated by the very effective drugless way.This treatment without any medicines is certainly a wonderful thing.

---
Weakness of Legs
A general weakness associated with weakness of legs, dreaming. insomnia and nervousness can be treated by adjusting the deficiency of Kidney and Heart. Patients often stiffer from spontaneous sweating. The treatment for this condition is to sedate Yin heat (Heart) or tonifv Yin coldness (Kidney).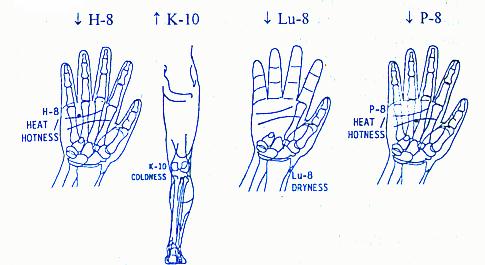 MENSTRUAL PROBLEMS
Easy Solutions with Acupressure-By Dr. H. Bhojraj
Fundamentals of Cyclic Process
Uterus is one of the female organs which has the strongest muscles which get activated during the birth of the child.Uterus prepares itself after puberty for 28 days cycle by conserving the blood in the walls of the uterus called endometriurn to supply the nutrition to the growth of the foetus in case of pregnancy.If the egg is not fertilized,the uterus will shed its lining and prepares itself for next 28 days.This series of events repeats on a cycle of approximately 28 days unless interrupted by pregnancy or ended by menopase in late forties or early fifties.
When the ovary releases an egg, it also releases the harmone called estrogen, (Harmones are chemical messengers in the body) which stimulates the lining in the uterus to grow and store the blood in expectation of pregnancy. If the egg is not fertilized, the ovary releases the harmone called progestrone, which makes the uterus shed its lining. This causes the menstrul flow which consists of small quantity of blood and tissue fragments.
During the automatic squeezing of the uterus, it can cause a little discomfort or pain during the periods. This pain and the amount of menstural flow varies widely among individuals. It may occassionnally be heavier or more painful than usual. Generally it does not indicate any disease but cysts in the ovaries or endometriosis can produce such unbearble pain during periods.

The three main categories of menstural irregularities are:
1. Lack of period (Amenorrhea)
2. Painful periods (Dysmenorrhea) and
3. Heavy periods (Menorrhagia).
1. Lack of Period
This indicates an underlying problem,although,generally there is no cause for concern, it can indicate low levels of estrogen in your system, particularly in young people. This will get adjusted before they reach the age of 20 years.We should never interfere with the system by taking harmone tablets; activate Sp.6and K.3 regularly to induce periods in a natural way. For people in the age group of 30-40 years, it can be one of the factors for developing osteoporosis. Due to lack of progestrone production, lack of period may occur. Both these harmones are controlled by the water element.Kidney and K.3 points are very important for such problems. In acupuncture theory, Spleen is considered to control uterus. Activating Sp-3 or Sp-6 will solve this problem.
The lack of periods in girls, who have not begun to menstruate is known as primary amenorrhea.The most likely cause is that the girl has not yet reached puberty. Some girls can mature even at the age of 17 though it is normal around 12-14 years.If the girl is very thin or who exercises excessivlly, can indicate anorexia nervosa (eating disorder due to the fear of becoming fat).In some cases, an injury, trauma, a tumor or a structural defect might be interfering with some aspect of the menstrual cycle. This should be investigated. Let the nature take its own time, hence, as far as possible,avoid hormonal treatment.
This can be traced to injuries or structural abnormalities;one common cause is ovarian cysts.Factors such as stress can also disrupt the balance of hormones and thereby interrupt the normal cycle.In teen age girls,extreme under weight can stop menstruation.Dieting to the extreme and heavy exercise like aerobics should be avoided if it occurs while dieting or sports training.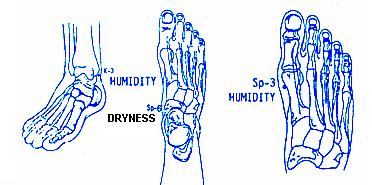 For secondary amenorrhea, one should reduce stress in life and if under weight, it is advisable to gain some weight. Activating overies and uterus reflexes on palms, once a day, for 1 to 2 minutes would he useful. Eating wholesome food, particularly foods rich in zinc and vitamin B complex are most beneficial.
2. Painful Periods
This is mainly due to hormonal changes during menstrual cycle.The body most likely produces excess of prostaglandins - a hormone like substances — that cause contractions of the uterus during menstruation. These contractions ensure that all the menstrual blood and tissue are expelled from the body. Excess postaglandins can cause repeated contractions — and perhaps even spasms — which are experienced as crarnping.
In times of extreme pain, it is better to consult the gynocologist and take necessary analgestic which can give quick relief. But for a long time remedy, activate Sp-6 and Liv-3 and Sp-8. The point CV-4 is another control point which can correct irregular menstrual periods.
A heavy period is a menstrual flow that lasts longer than eight days, saturates napkins within an hour or includes large clots of blood. It is caused due to harmonal imbalance, endometriosis (microscopic hits of endometrium tissue migrate outside the uterus, become implanted on other organs and tissues grow there), pelvic infection or fibroids (growth of the muscle and fibrous tissue inside uterus).
Lack of ovulation, low levels of progesterone, or an excess of prostaglandins can cause heavy periods. Heavy loss of blood can cause iron deficiency, anemia.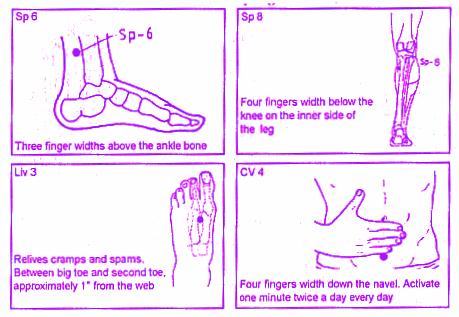 Hormone tablets and analgesics along with iron and folic acid supplements are usally prescribed by the doctors. Usually for ladies above the age of 40 years, doctors will suggest hystarectomy i.e. removal of uterus. Seeking a second opinion before deciding to undergo this surgery is advisable.
Acupressure will activate the spleen which controls the uterus. Reducing Yin-humidity in the sub-system level will give good results.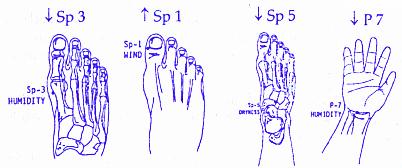 Prevention is better than cure
It would be best to maintain normal weight, eating wholesome food, walking daily for 30 minutes and adopting a relaxed attitude towards life will give desirable results. Finally, activating the pitutary, thyroid, adrenal, uterus and overy reflexes points daily will be useful. The hook "Acupressure and Fitness" could be refered to locate these reflex points on the palm.
Our next issue will cover Premenstrual Syndrome (PMS) and Menopause Problems.
Those who have periods problems may contact Mrs. Sujata Palyam (Tel 6644 012) who will organize an evening seminar for such people to share their problems and experience with acupressure/acupuncture.
Date: November 23, 2002 Time 5 pm.Venue : 598, 11th main, 5th Block, Jayanagar, Bangalore - 560 041
-- Dr. H. Bhojraj
---
ANNOUNCEMENTS
Diabetic Research-2002 on successful cases (Click here to see graph)
Acupuncture /Acupressure Research on Diabetes
Research Camps for Migraine starts in January 2003. For details contact our Programme Coordinator Shri P. Suresh on phone 663 8091. -- Dr. H. Bhojraj
---
Regular Treatment Camps
by Dr. H. Bhojraj
IN JAYANAGAR
| | | |
| --- | --- | --- |
| Month | General(All ailments) | Diabetic Camp |
| November 2002 | 17th (Sunday) | 24th (Sunday) |
| December 2002 | 22nd (Sunday) | 29th (Sunday) |
For appointment please call Tel : 6644012
Address : 598,11th Main, 5th Block, Jayanagar, Bangalore—560 041
Please bring your Blood /Urine Analysis report without fail and the list of medicines and dosages you are currently taking.Send your feed back ,comments and suggestions to Mr.P.Suresh to the above mentioned address.

Nov.23 , 2002 5 to 7 PM "Mensural Problems Seminar"
---
For Basic Course in Acupressure
Starting From November 25,2002.
Contact Course Coordinator Smt.Sujata Palyam on Phone 6644012.
Dr.H.Bhojraj,Course Director.
---
SUCCESSFUL OPEN HOUSE - Acupressure and Diabetes

A Section of the Audience at the OPEN HOUSE
Brief Report on the Diabetes Camp- By P. Suresh, Programme Coordinator
The Camp started in February this year has earned good response form those interested in drugless therapies.In fact the enrollment has been increasing each month.The results are also very encouraging (they have been published in each issue of this Newsletter) and most of the enrolled members have reported good improvement not only in control of their blood sugar levels,but also of the general health conditions.Many have reported drastic reduction in their blood sugar levels in just 3 to 4 month's treatments and have been able to reduce medicine intake.There are cases wherein medication is totally stopped after the treatment in the Camp.It is observed that those enrolled themselves in earlier months of the Camp have been introducting their friends and relatives to the Camp.The cooperation extended by the participants has helped us in attaining our objective and I am sure such cooperation will continue till each member completes the 12 months period.It has now been decided that effective August 31,2002,we will not be enrolling any more into the Diabetes Camp.However,those who need,can get treatments for diabetes in the regular process.


Kind Attention
IMPORTED ACUPUNCTURE NEEDLES
(Individually Packed)
Available
For requirements,Contact Dr.H.Bhojraj ,Tel:91-80-3326552.
Trade Enquiries for the New book
'Acupressure-A Drugless Path To Good Health'
by
Dr.H.Bhojraj

---

Contact: Shri P. Suresh Ph. 6644 012 (R) 663 8091 (o)

The new book 'Acupressure-A Drugless Path to Good Health' and reprint of 'Acupressure and Fitness' are now available for public at the following outlets.

M/s Gangaram's, M.G.Road,Bangalore
M/s L.B.Publishers & Distributors Pvt.Ltd,Bangalore
Mrs. Sujata Palyam, Bangalore.Phone : 6644 012
M/S Manasa Services,Bangalore. Phone:6638091.

* Dr. Ashok Popli, New Delhi . Phone: (011) 6411815, 6433278

* Dr. J. Jayalakshmi, T. Nagar,Chennai . Phone: 823 1832

* Mr.A.Prabhu,Sheldon,Kotagiri,Nilgiris. Phone:04266-73852


* Acupressure/Acupuncture treatment is available at these places also.
For further details ,contact Dr.Bhojraj. E-Mail:acu_bgl@yahoo.co.in Phone:+91-80-3326552/3324653
---
To be continued in Next issue..Jan -2003